EXPLORE TARGET ZONE CLA
Losing weight, building muscle or staying healthy - we have the supplements you need to reach your targets
weight loss
Inhibits the absorption of fats and promotes the loss of stored fats
Lean up
promotes muscle tone and aids muscle growth when weight training
Naturally occuring
Can be found in small quantities in meat and dairy, however supplementing your diet with CLA has shown positive results in testing
Amazing transformations
Just look at our testimonials, they speak for themselves!
Is Target Zone CLA right for me?
CLA is ideal for those looking to shed fat whilst maintining/improving muscle tone and development
How Does CLA work?
CLA works by reducing body fat by preventing fat accumulation in fat cells. CLA is found in the diet, but diet alone will not provide enough CLA to experience health benefits. To reach an optimal dosage of CLA, a person can supplement his diet with capsules, bars or ready-to-drink shakes fortified with CLA.
What does CLA do to reduce body fat?
CLA inhibits the activity of the enzyme lipoprotein lipase (LPL). This enzyme transfers fats from the bloodstream to the fat cells. As a result of the decreased enzyme activity the transport of fat into fat cells is blocked. At the same time CLA also stimulates the breakdown of stored body fat (lipolysis). Additional studies have shown that CLA increases the disintegration of cells (apoptosis), resulting in a decreased number of existing fat cells.
What does CLA do to increase muscle mass?
CLA increases the activity of the enzyme carnitine palmitoyltransferase (CPT). CPT is present in the skeletal muscles and is responsible for the transport of fatty acids into the mitochondria. Energy production in the body takes place in the mitochondria. Fat can be used as fuel for energy production. With an increased activity of CPT in the skeletal muscle, CLA increases the transport of fat into the mitochondria. All these steps elevate the beta-oxidation, thus helping the body to burn more fat. Physical activity stimulates the fat transport from the bloodstream or the fat cell, to be burned in the muscle cell. With no extra fat coming in to store in the fat cells and increased burning of stored fat, the size of these cells is reduced. Using CLA in combination with a sensible diet and moderate exercise can lead to an improved body shape.
Also note that you can use CLA along side our famous Burn Bullets fat burnersa as they attack the fat using different methods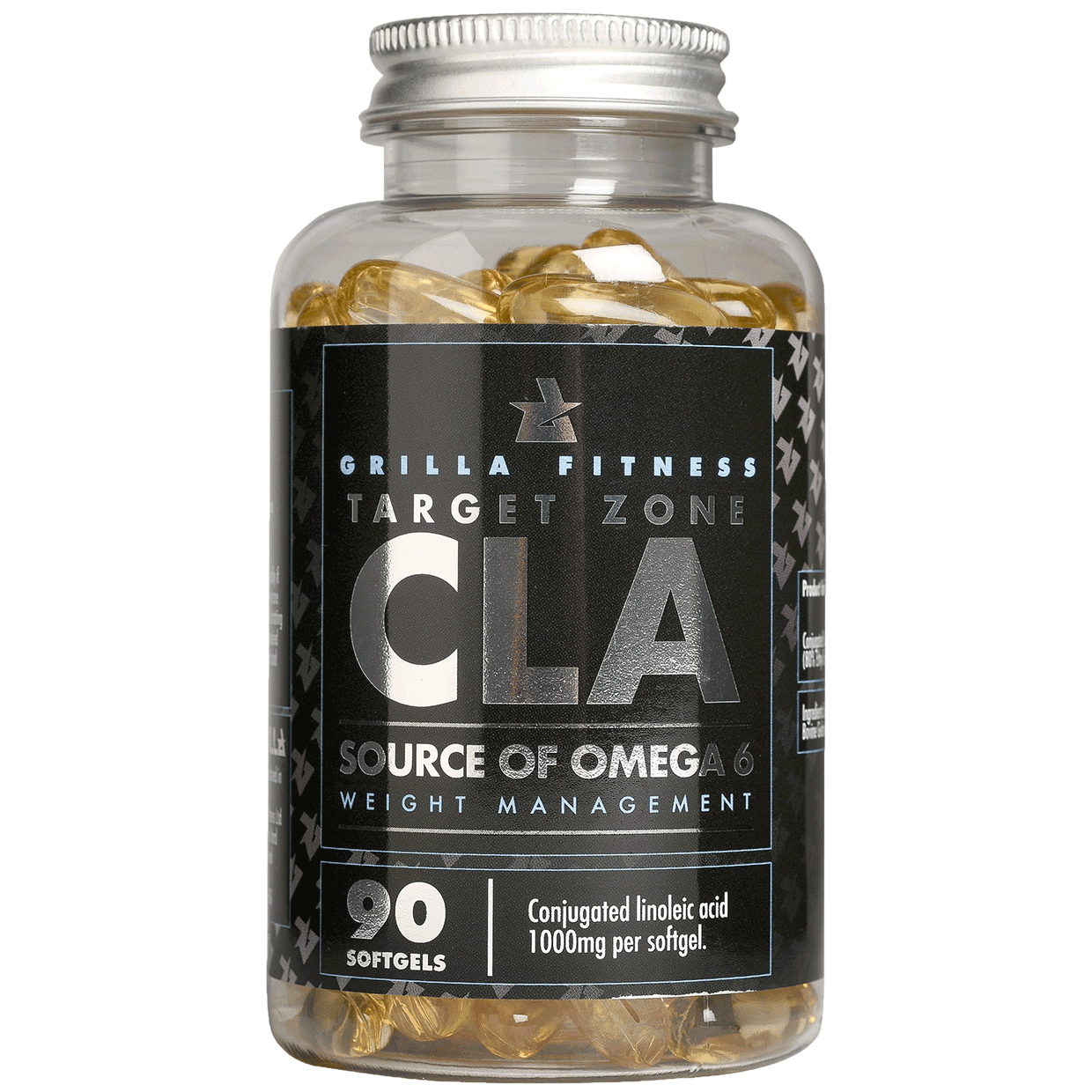 Customer Reviews
great for fat loss
i have been using these for about 3 weeks now and ive noticed that that wobbly bit at the bottom of my stomach has shrunk. I started using these along side a diet regime and they seem to compliment my diet well