Shake it out with Grilla Fitness Burn Blend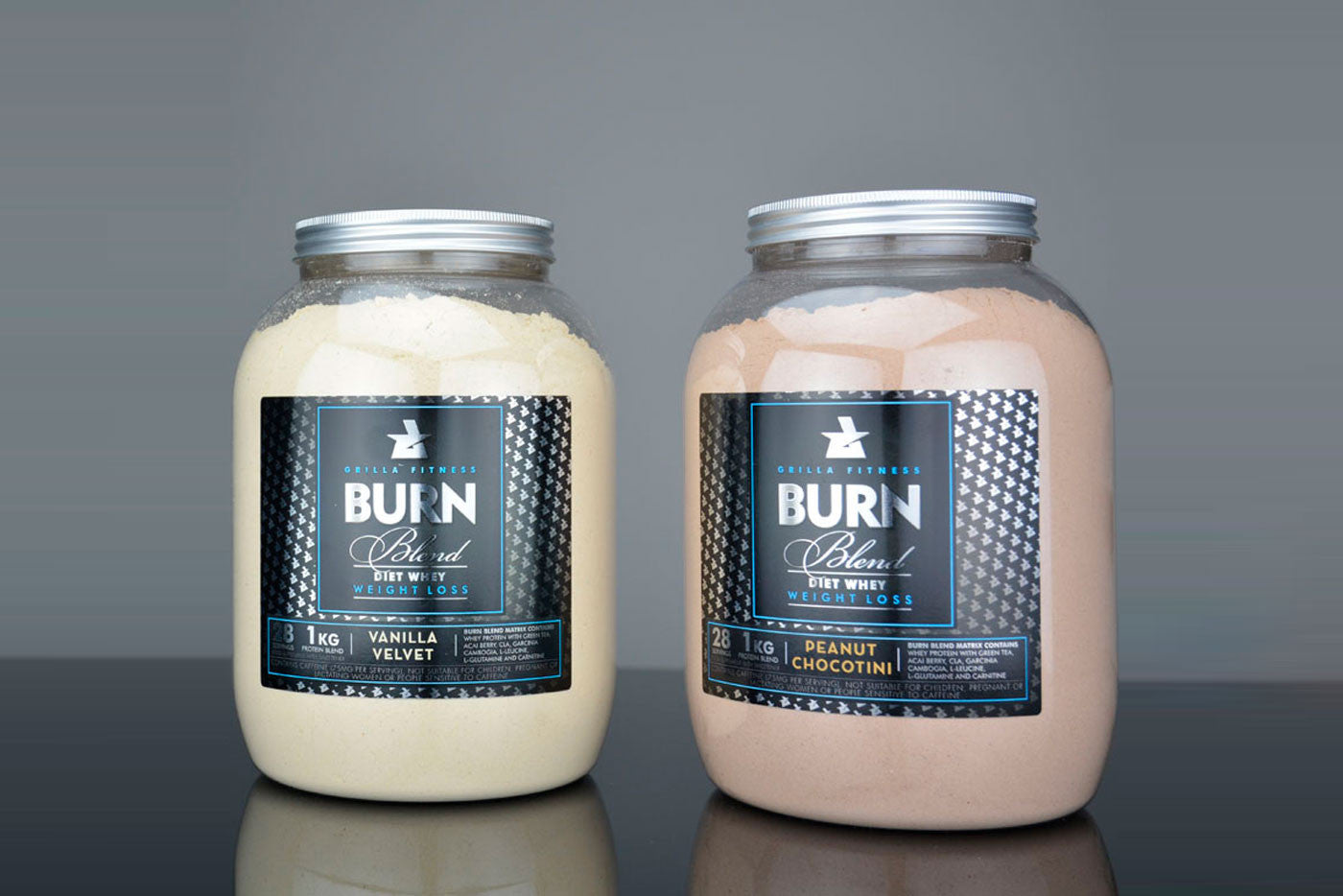 We have recently launched our new Diet Whey and it is already Shaking up the Weightloss Industry! We are very proud to introduce our latest product 'Burn Blend' Burn Blend is a mixture of carefully selected weight loss and toning ingredients to create an amazing tasting diet protein shake. Burn Blend only contains whey protein as its protein source, we do not believe in using cheaper soy protein as a filler to keep manufacturing costs down, we aim to bring you the very best top quality products.
So what can you expect when purchasing Burn Blend?
✔ Industry leading weight loss support blend ✔ Great taste in two product launch flavours with more amazing flavours coming shortly ✔ A versatile product (you can use it in cooking and smoothies - we will be bringing you some ideas) ✔ Great mixing non lumpy shakes ✔ A filling yet healthy meal replacement ✔ An array of vital amino acids
What weight loss ingredients does it contain?
We have carefully selected this weight loss support blend to bring you an industry leading product. You'll notice that the majority of our competitors will only include
some
of these elements... we choose to use them
all!
- Chromium - Cayenne Extract - Garcinia Cambogia - CLA - Acia Berry - L-carnitine - Inulin - Green Tea Extract - Caffeine
How to use Burn Blend?
We suggest you use Burn Blend as a meal replacement shake for your breakfast. We do provide a free diet plan with many of our products so we give good guidance as to what to eat alongside the Burn Blend diet shakes. It also goes great in smoothies blended with fruits and even add a scoop of your healthy pancake mixes! Oh yeah.. and lets not forget the tub will look great in your kitchen!
What Amino Acids does it contain and what do they do?
Leucine
(Muscle tone/repair/recovery) - This is a vital Amino Acid that can not be synthesized. It is the only dietary amino acid that has the capacity to directly stimulate muscle protein synthesis
Isoleucine
(Muscle tone/repair/recovery/clotting of wounds) - Its primary use is to help the body recover from tough physical activity. In addition to this is helps the body regulate sugar levels
Valine
(Muscle tone/repair/recovery) - Valine is an essential amino acid, hence it must be ingested your body can not create it
Aspartic Acid
(muscle tone) - This forms one of the building blocks for protein.
L-Glutamine
(Mucsle tone/endurance/immune system/fat loss) - L-glutamine has many uses. Studies have shown that it increased growth hormone, which helps with muscle production, but also fat loss due to the increased growth hormone. It also helps stop muscle wastage.
Serine
(Fat loss/immune system) - This is needed to help with the metabolism of fats and fatty acids. It also helps maintain a healthy immune system
Glycin
(Mucsle tone/energy) - Glycin helps create muscle tissue. In addition it helps with energy levels by converting glucose in to energy. It also has a positive effect on creatine levels in the body
Histidine
(Healthy Tissues) - Histidine helps maintain healthy tissue throughout the body. It also helps with mental state and sexual function
Arginine
(Immune system/circulation/heart function) - Arinine has a wide range of benefits. The most noted are improving circulation and heart health along with regulating hormones improving sexual function. It also helps remove toxins from the body
Threonine
(growth/Immune system/cardiovascular system) - A number of benefits, ranging from wound healing, bone condition and supporting lots of bodily functions and organs.
Alanine
- (energy/antitoxin/cell protection) - Alanine can sometimes give you a slight tingle. It helps the body convert simple sugars to energy, which is great when training. It also protects your cells from damage during exercise
Proline
(joints/Skin) - This is essential to maintaining healthy skin, it aids in the production of collagen and cartilage so in terms helps keep muscles and joints supple, a must if you are training hard!
Tyrosine
(mood/nervous system) - This is very important as it helps the brain perform many functions such as regulating appetite and stress levels.
Methionine
(fat loss) - This is an essential amino acid that helps the body remove fat. It is also needed to create creatine within the body
Cystine
- (nutrients/joints) - This is able to complete several functions such as helping joint pain and helping the body to absorb nutrients.
Phenylalanine
- (brain health/skin) - It is used to combat lots of disorders as well as healing skin conditions.
Lysine
- (mood/muscle tone) - Studies have shown that this has a positive effect on muscle tone and mood improvements.
Tryptophan
(improved sleep) - This is an essential amino acid so your body can not produce it, it is linked to improving sleep and helping with a healthy mood.
What are you waiting for?
Purchase
Vanilla Velvet
or
Peanut Chocotini
now to continue on your weight loss and toning journey!
---