Dont worry our Vegan Friends, this simply amazing tasting Vegan meal replacement shake is here for you! Hit your protein intake, with this incredibly smooth plant based protein blend. Use alongside your free calorie controlled diet plan to achieve your body goals easy-PEA'sy
Amazing Pea protein source

Lactose Free

Just 111 Calories per serving

Dairy Free, Gluten Free, GMO Free

All the benefits without compromising on taste

Naturally Flavoured with no Added Sugar

Contains Zinc which contributes towards healthy skin and hair

Contains metabolism aiding ingredients with added Green tea!
How to use Burn Blend Vegan
Add 1 Scoop to 200ml of water or a nut based milk such as Almond milk or Coconut milk. Use a protein shaker for convenience, shake and drink on the go! Use 1 to 2 servings per day.
For Weight loss
Have 1 serving as a meal replacement shake or smoothie for breakfast. Depending on your goals use a further serving as a meal replacement or Smoothie for lunch or Dinner. Replace a maximum of 2 meals per day. Use the free calorie controlled diet plan for meal and snack Ideas throughout the day.
To Tone up
Use Burn Blend Vegan as a post work out shake, providing the body with the protein and nutrients to kickstart muscle repair and recovery. Also use as a high protein snack at any stage of the day to keep your body fuelled and fed.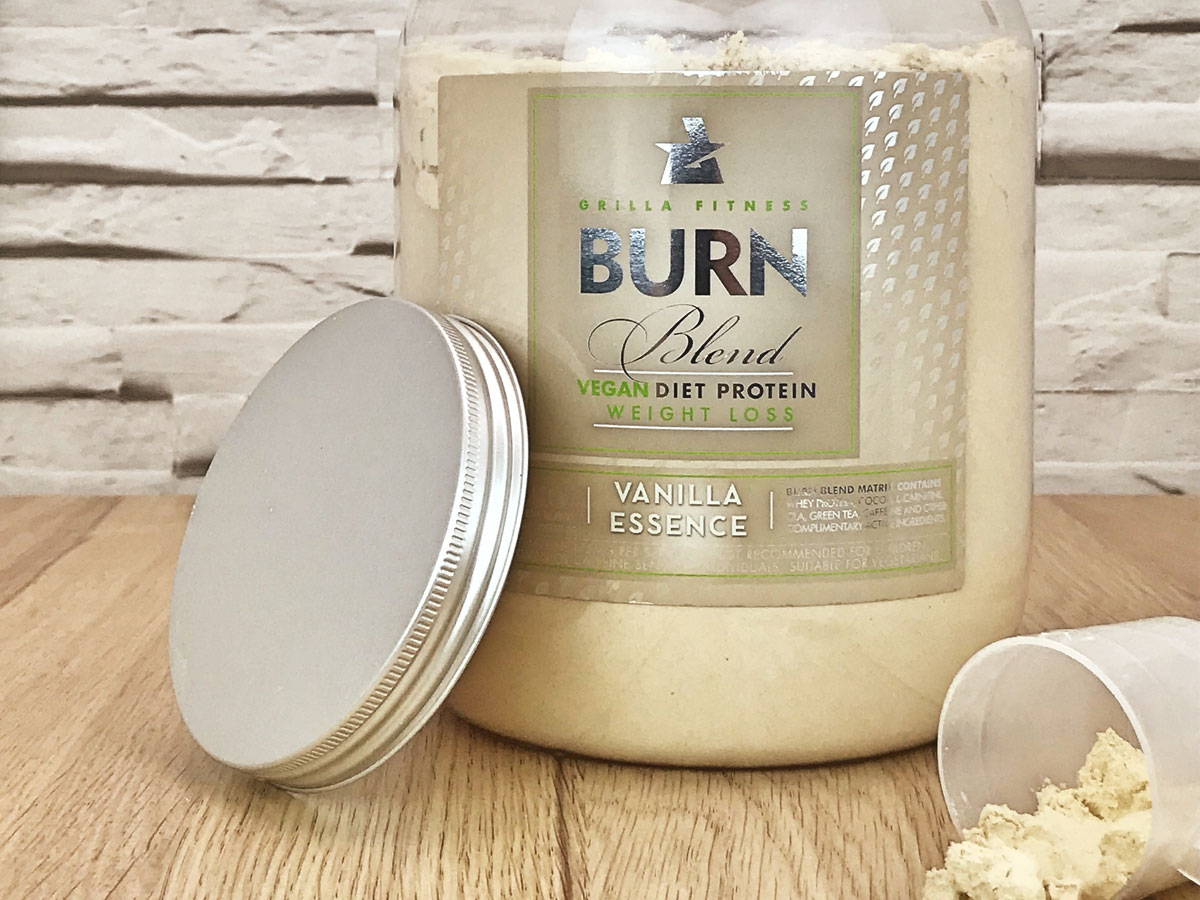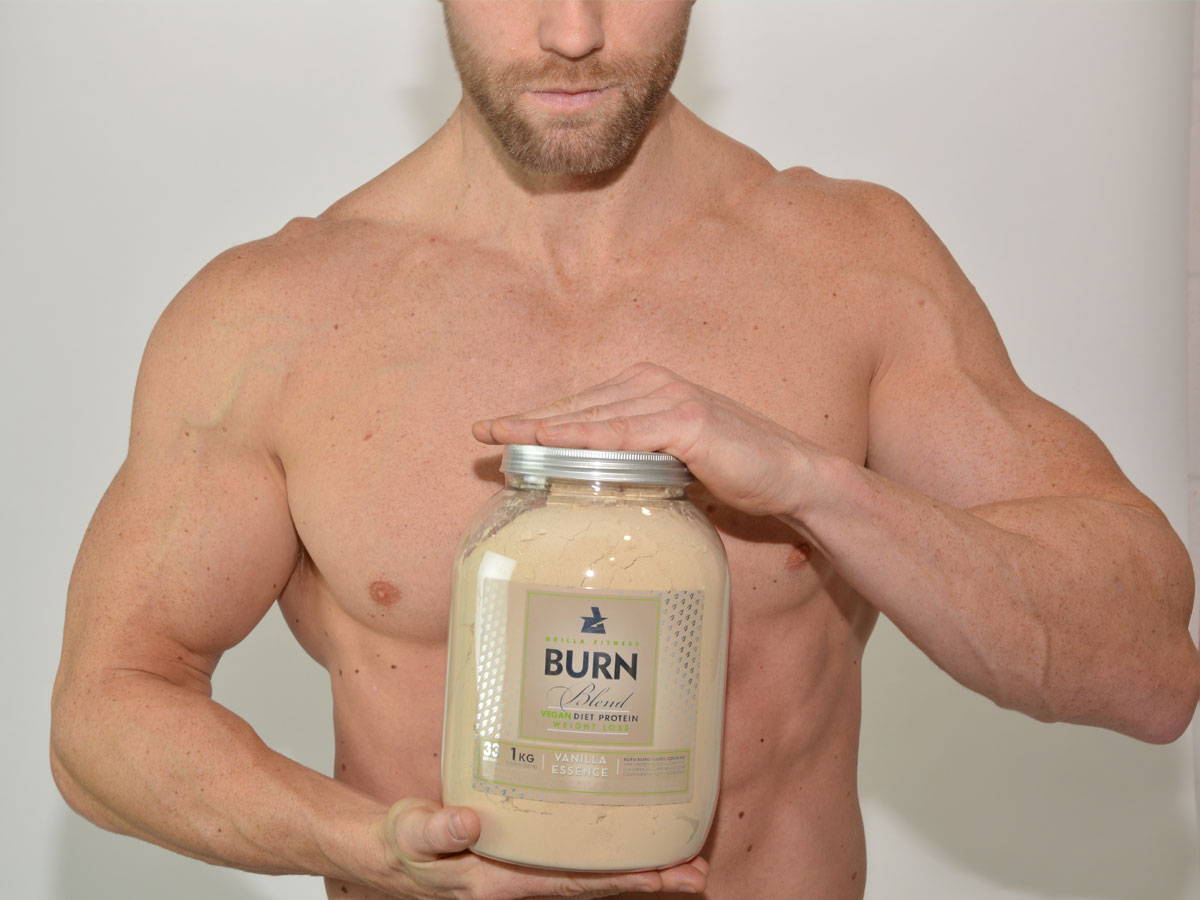 Burn Blend Vegan is an all natural plant based meal replacement shake. The low calorie, low fat, low carbohydrate blend is perfect for those wanting to tone up or work towards weight loss goals. Because it is free of any animal based products, lactose, soy and cholesterol it is perfect for those with any intolerances or dietary requirements. With added digestive enzymes it also helps those who struggle with IBS and digestion issues. High in protein, Burn Blend vegan helps with muscle repair and recovery, so is also fantastic to use alongside an active lifestyle. Because it tastes so great, it can be used as a snack to keep cravings at bay and ensure you stay on track with your transformation goals. Developed over months of trails and testing with professional athletes and fitness experts, we are confident that you will simply love Burn Blend Vegan.
Ingredients: Vegan Protein Blend [Pea Protein Isolate, Rice Protein Isolate], Sunflower Oil Creamer [Sunflower Oil, Glucose Syrup, Modified Starch], Flaxseed Powder, Flavouring, L-Carnitine L-Tartrate, Green Tea Extract [Green Tea, Maltodextrin], Guarana Extract [Paullinia Cupana, Maltodextrin], Thickener (Xanthan Gum), Sweeteners (Acesulfame Potassium, Sucralose), Digezyme Enzyme Complex [Alpha-Amylase, Neutral Protease, Lactase, Lipase, Cellulase], Salt, Broccoli Sprout Extract [Brassica Oleracea, Maltodextrin], Cayenne Extract [Cayenne, Maltodextrin, Gum Arabic], Zinc Gluconate, Ferrous Fumarate, Vitamin A (Retinyl Acetate), Chromium Picolinate, Vitamin B12 (Cyanocobalamin).
Typical Values
Per 100g
Per 30g Portion
%RI*

Broccoli Sprout Extract (mg)

L-Carnitine L-Tartrate (mg)
SPEND JUST £35 TO GET FREE UK STANDARD DELIVERY!
Low Calorie - Low fat - All Green!
Read More