SPEND JUST £35 TO GET FREE UK STANDARD DELIVERY!
Levels is formulated to help you smash your training sessions and sporting activities. It is designed to give you energy and focus to push you where you want to be! It is simply the next Level in pre-workout supplementation No cutting corners, no micro-dosing no compromise.
WHAT WILL you GET FROM LEVELS
Increased Energy without the jitters or crash
Laser like focus
Zero Carbs - Zero Fat - Zero Sugar - Zero Calories
Maximise Cell volume leading to massive pumps
Packed with B Vitamins
Four truly exceptional tasting flavours
Vegan Friendly
Both Men and Women can benefit from Levels. Those who want to get more from their training sessions, team sports or any type of physical activity, will see a huge increase in performance when using Levels. Hit those PB's and set those new benchmarks!
| Ingredient | Per 6.25g Scoop | % *NRV | |
| --- | --- | --- | --- |
| L-Arginine AKG 2:1 | 250mg | | |
| L-Citruline Malate | 1200mg | | |
| Beta Alanine | 1000mg | | |
| L-Taurine | 625mg | | |
| L-Tyrosine | 625mg | | |
| Creatine HCL | 375mg | | |
| D-Glucuronolactone | 250mg | | |
| Caffeine | 125mg | | |
| Pine Bark Extract | 50mg | | |
| Niacin | 12mg | | |
| Vitamin B6 1mg | 1mg | | |
| Vitamin B12 | 2.5μg | | |

L-Arginine AKG 2:1, L-Citruline Malate, Beta Alanine, L-Taurine, L-Tyrosine,
Creatine HCl, Flavouring, D-Glucuronolactone, Natural colour (Caramel),
Flavouring, Dextrose, Caffeine, Sodium Bicarbonate, Sweetener
(Sucralose), Acidity regulator (Citric Acid), Pine Bark Extract 95%
(Pycnogenol), Vitamin B3 (Niacin), Vitamin B12 (Cyanocobalamin), Vitamin
B6 (Pyridoxine HCL).
What Is the WORD ON LEVELS?
The levels drink is awesome for me as not only does it taste great and has no crash after, it gives me such an amazing buzz and focus I feel like old matey out of wanted where he can focus on a flys wing.
This is an excellent pre lads. The focus is excellent!
I thought compared to what I have been taking it would be average, I was wrong!
This stuff is AMAZING! Holds its own and in many cases
beats competitors hands down! The pump, focus and energy from this product is mental!
Usually I really hate the taste of pre-workouts but this has hit the spot!
Gave me bags of energy too!
Damn it's some explosive stuff, I'm massively depleted due to diet but this keeps me moving all session!
AMAZING!
Nathan
This stuff is AMAZING! Holds its own and in many cases beats competitors hands down! The pump, focus, and energy from this product are mental!
Nathan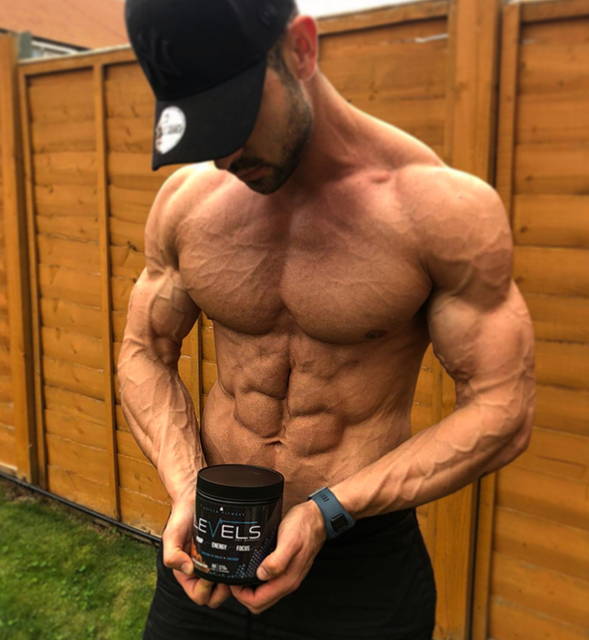 Take 1 to 2 scoops half an hour before physical activity on an empty tummy.
Mix 6.25g (1 flat scoop) in 128-150ml of cold water. Shake well and
consume immediately. Advanced users can use up to 2 scoops.
No, taking levels alone will not bulk you up. You will get more out of your training sessions, so dependant on how you are training, you will work more towards your individual goals
Can you use this alongside other Grilla Fitness Products?
You can use Levels with all of our other products, aside from Burn Bullets. You can use Burn Bullets and Levels during the same periods but not on the same days due to the stimulants.
Can I drink alcohol when using Levels?
We suggest not using Levels for 24 hours if you are planning to drink Alcohol
I am drug tested, will this cause me to fail?
Levels pre workout is produced in an ISO Approved facility. All ingredients included, meet strict government guidelines in terms in ingredients and dosages. However, Levels is not batch tested. So can not carry the informed sports mark. If you are unsure, please double check with your own guidelines for prohibited ingredients, there is a full list of ingredients listed.
INSTA @grillafitness
Be social and tag us in