SPEND JUST £35 TO GET FREE UK STANDARD DELIVERY!
A potent Testosterone support supplement. The test is 100% Natural and Legal, it is formulated using well researched ingredients to promote the production of Testosterone in the body.
Totally legal testosterone supplement
Key researched ingredients to boost testosterone levels
Maximise Muscle Growth
Increased Strength
Increased Libido
Help improve general mood and well being
Is the Test Right for me?
This product is for Men who feel their testosterone levels could do with a helping hand. In the fitness world Testosterone plays a vital role in muscle growth, strength and bone health. In every day life, it is responsible for maintaining libido and sperm count along with many other functions. As men get older their test levels fall, and with Men aged over 30, it can be as much as 1% each year. Supplementing your diet with a potent testosterone support supplement such as 'The Test' can help maintain and boost healthy testosterone levels.
| Ingredient | Per 1 Capsule | % *NRV | |
| --- | --- | --- | --- |
| Vitamin A (3330 IU) | 1000 µg RE | 125 | |
| Vitamin D (320 IU) | 8µg | 160 | |
| Vitamin K1 | 100µg | 133 | |
| Pantothenic acid (Vitamin B5) | 25mg | 416 | |
| Vitamin B6 (as Pyridoxine HCl) | 8mg | 571 | |
| Folic acid | 400µg | 200 | |
| D-Aspartic Acid | 1640mg | ** | |
| Zinc | 25mg | 250 | |
| Selenium | 120µg | 218 | |
| Chromium | 64µg | 160 | |
| Maca root extract 10:1 (equivalent to 4g of Maca root) | 400mg | ** | |
| Fenugreek seed extract 4:1 (equivalent to 380 mg of Fenugreek seeds) | 95mg | ** | |
| Black Pepper extract (Bioperine) | 5mg | ** | |
| Korean Ginseng root extract 60:1 | 16.7mg | ** | |
| (equivalent to 1g of Korean Ginseng root) Providing:Ginsenosides | 5mg | ** | |

D-Aspartic Acid, Magnesium Oxide, Capsule Shell (Hydroxypropyl Methylcellulose),Maca RootExtract,Fenugreek Seed Extract,Anti-Caking Agent (Magnesium Stearate),Zinc Oxide, Calcium D-Pantothenate,Korean Ginseng Root Extract,Vitamin A AcetatePreparation(Carriers: Maltodextrin,Arabic Gum, Modified Starch;VitaminA Acetate; Antioxidant: dl-Alpha Tocopherol),PyridoxineHydrochloride,Black Pepper Seed Extract (Bioperine),Vitamin D3 Preparation(Carriers: Acacia Gum,Sucrose, Sunflower oil, Starch;Cholecalciferol),Vitamin K1 Preparation (carrier:Maltodextrin;Phytonadione),Chromium Picolinate,Folic Acid, SodiumSelenate,Cyanocobalamin
WhAT DO OUR 'THE TEST' CUSTOMERS SAY?

well if they do nothing else then at the very least they have put a smile on the wives face!
I have been using them for about two weeks and
I have had a throwback to my 20's in relation to my libido if you get what I mean! the missus is bulk ordering me some for the next six months ha!
One of my mates was using these and got me on them! I was lacking a bit of mojo in the gym, and
I bought these and the levels pre-workout. These two products have really given me a new lease of
life with my training and I have put on a few lbs of muscle too which is more than I expected!
Being a regular Grilla customer, I am always keen to try their new products. I grabbed a bottle of
the TEST when they first came out, and around A week in
I can honestly say I am impressed...and so is the Mrs :)
Since taking these I really have noticed positive changes with my energy levels and general mood, I feel much more chippa!
I have been recommending these to all of my friends and recommend
these to anyone in their 30's who feel a bit de-motivated in their training
I was Dubious but
I read a few reviews and decided to give these a go.
I pretty much felt a boost within a couple of days of taking them! Great product guys!
Lean Gain
Jay
I really noticed the difference! They gave me great gains in terms of muscle and strength
Jay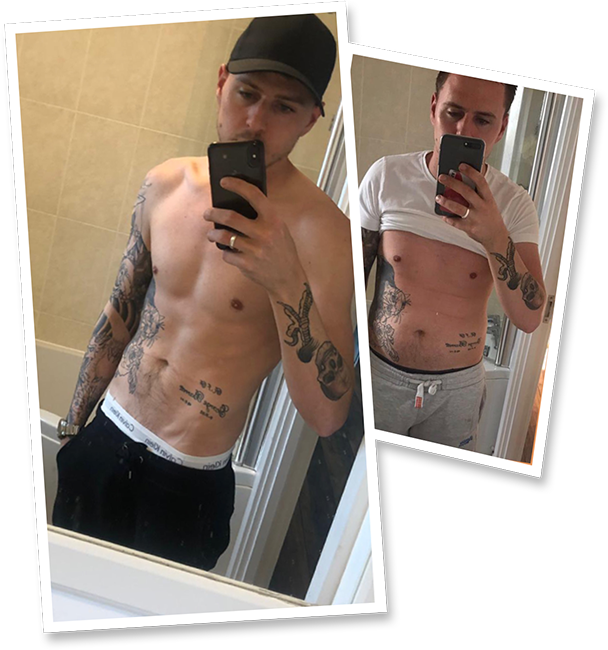 What have Customers experienced?
We have had amazing feedback regarding 'The Test.' Commonly reported benefits are, higher Libido, better strength and muscle tone. With an industry leading return custom rate, we are sure you will love this product and come back for more!
Can I continue to use them or do I need a break?
We suggest using them for up to 12 weeks before having a 4 week break.
Yes they are 100% legal. Although very potent, we use only legal ingredients in this product. If you are drug tested, they contain ingredients approved by the FSA, however, if you are drug tested please check your own guidelines for anything that may sit outside FSA rules.
Can I use these with other products?
Yes you can! A lot of customers use these combos
Burn Bullets the Test - Muscle growth and fat reduction
Levels & The Test - Amazing energised training sessions and Muscle growth
The Test & Isoblend - Lean Muscle growth gains
Instagrilla
Be social and tag us in